Having worked in product development for the past few years, Dr. Enrique Garcia had seen what 3D printers were capable of and began investigating the possibilities for creating models for pediatric cardiologists to use before an operation. She began by asking surgeons from around the country what they thought of the idea. To say that their response was overwhelmingly positive is an understatement. The value of this idea was immediately apparent.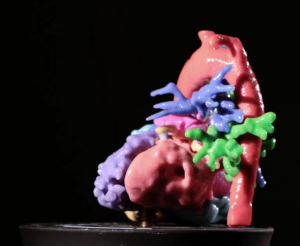 ?Pediatric heart surgery is the hardest thing that I can imagine a person doing. A surgeon doesn?t know what he?s going to see until he opens a child?s chest. Every heart is different and every cardiopathy is different,? said Garcia. ?A baby?s heart is the size of a walnut, and surgeons need to go in and move around structures that are as small and thin as a human hair; and they?re doing it with their own two hands. And all of this is occurring against a ticking clock.?
*
?Having something in your hands, and being able to turn it any way you want, and to be able to cut and open it up and see the inside; and to be able to physically hold it, to feel it, is something that can?t be replicated in a computer.?
Read More in the source.