The North American Society for Cardiovascular Imaging (NASCI) welcomes the submission of original abstracts for its 43rd Annual Meeting, September 26 ? September 29, 2015 at the Westin, San Diego via its online system. The NASCI 2015 Annual Meeting will showcase Oral Presentations, AHA Young Investigator Presentations (AHA Oral), and Educational Exhibits (Poster).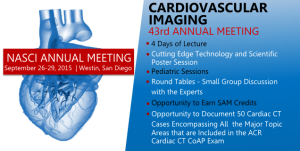 Scientific presentations are completed hypothesis-driven research with a comprehensive report; a work-in-progress report of ongoing research of emerging ideas and techniques and containing initial yet defined results; or a brief pertinent report of a particular new aspect or understanding of clinical radiology.
Young Investigator
The American Heart Association Council on Cardiovascular Radiology and Intervention (CVRI) will again sponsor the NASCI-AHA Young Investigator Awards.
Eligibility: All residents, postdoctoral students, medical students, and fellows are eligible.
Selection: Eight finalists will be selected and asked to orally present their papers at the Scientific Sessions. ONLY FIRST AUTHORS MAY PRESENT FOR YOUNG INVESTIGATOR SESSIONS.
Awards: All eight finalists receive two nights' hotel accommodations at the Westin and will have the abstract published in full in the iJCVI. Travel and meeting registration costs are covered by the finalist. The three top presentations will receive an additional cash award. The 1st place presentation will receive an invitation to publish their work in the iJCVI with an expedited review by the Senior Associate Editor (although standard peer-review criteria for acceptance will apply). If accepted, this article will be noted as NASCI's 1st place article in an Editorial written by the Senior Associate Editor.
NOTE: Those who submit as an AHA, but are not chosen as a finalist, will still be eligible to present their work as a non-AHA talk or poster.
Application details:
The presenter must be the first author of an accepted abstract.
Only Young Investigator submissions accepted for oral presentation will be considered for the American Heart Association – CVRI Young Investigator Awards.
The applicant must be a member of NASCI and CVRI.
A signed confirmation from the Program Director of the applicant?s In-Training status should be sent to the Society (FAX: 703-716-4487 or EMAIL: info@nasci.org) The applicant must apply before the MAY 19, 2015, 11:59 pm abstract deadline.
No more than two applicants from the same institution may be selected as a Young Investigator finalist. There is no limit to the number that may apply.
When submitting the abstract, please select "Yes" for the Young Investigator Awards/Travel Stipends Question.
The American Heart Association requires all applicants be an AHA CVRI (Cardiovascular Radiology and Intervention) Council member. If the applicant is not currently a member of the CVRI council, the CVRI Council will then pay the membership fee.